Ref. 5200
Anillo Carpentier Physio II Mitral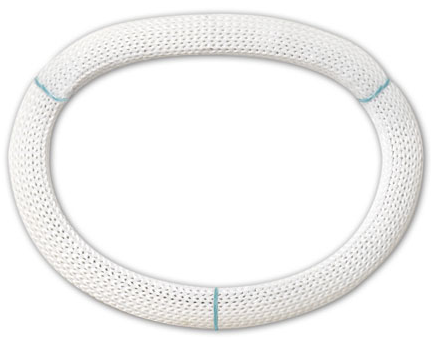 Anillo de anuloplastia Carpentier-Edwards Physio II
Este anillo ofrece la seguridad de un diseño probado basado en 40 años de experiencia en la reconstrucción de la válvula mitral.1 Gracias a la integración de 15 años de experiencia en anatomía y fisiología de las válvulas mitrales, la siguiente generación del anillo Carpentier-Edwards Physio II permite a los cirujanos a reparar sin límites.2,3
Cualquier anillo, cualquier paciente
Optimización global de la forma: Es la evolución de la forma en D nativa a una forma más circular para permitir cambios etiológicos en las dimensiones anulares mitrales.
Configuración de doble silla: maximiza la distribución del estrés en la válvula mitral reconstruida.4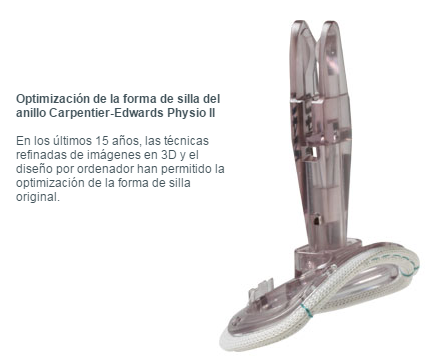 Fácil para cada implante
Diseñado por cirujanos para mejorar la implantación.
El auténtico diseño de mango de sutura ofrece una mejora de un 40% en el margen de sutura.5
Una extracción de acceso sencillo y de un único corte ofrece un desprendimiento del anillo rápido del soporte
.
El soporte anguloso mejora la visualización y el campo de visión de la válvula mitral.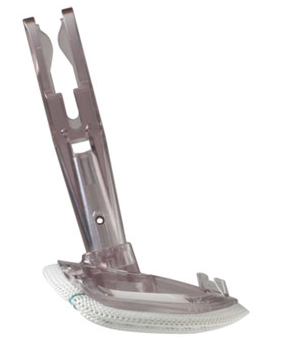 Las ventanas del soporte permiten una visualización directa de la línea de coadaptación reparada.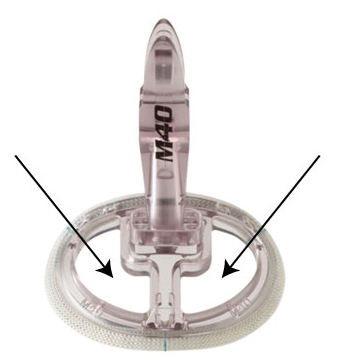 Confianza reproducible
El diseño probado ofrece un remodelado con flexibilidad.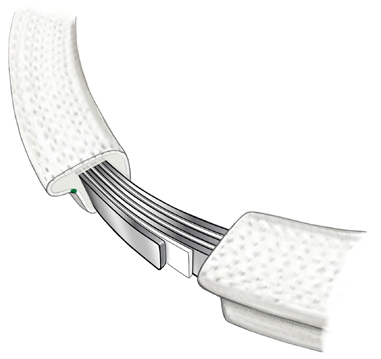 Basado en 100.000 implantes del anillo Carpentier-Edwards Physio.6
Eficacia clínica demostrada por 7.000 pacientes publicados-años.7-18

Indicado para su uso en pacientes con insuficiencia de la válvula mitral.
| Modelo | Descripción | Tamaños | Imágen |
| --- | --- | --- | --- |
| 4450 | Carpentier-Edwards Physio Annuloplasty Ring | 24, 26, 28, 30, 32, 34, 36, 38, and 40 mm | |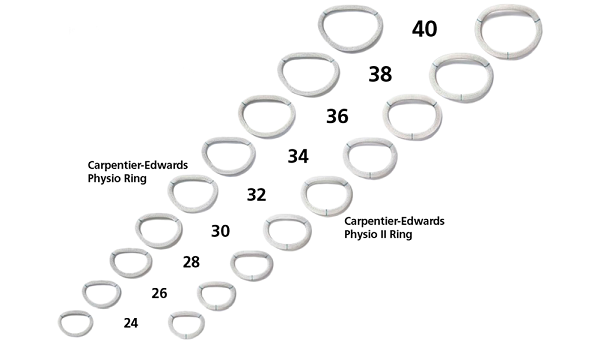 Video del implante del anillo Physio II - Dr. David H. Adams
Las citas utilizadas en este material han sido recopiladas de publicaciones independientes y su intención no consiste en insinuar que dichas publicaciones independientes han examinado o respaldado cualquiera de los productos de Edwards Lifesciences.
Referencias:
1. Based on the first remodeling ring annuloplasty performed by Prof. Carpentier in 1968. See Carpentier A. La valvuloplastie reconstitutive. Une nouvelle technique de valvuloplastie mitrale. Presse Med. 1969 ; 77 :251-3.
2. Filsoufi F and Carpentier AC. Principles of reconstructive surgery in degenerative mitral valve repair. Semin Thorac Cardiovasc Surg. 2007;19:103-110.
3. Anyanwu AC and Adams DH. Etiologic classification of degenerative mitral valve disease. Semin Thorac Cardiovasc Surg. 2007;19:90-96.
4. Jensen M et al. Saddle-shaped mitral valve annuloplasty rings experience lower forces compared with flat rings. Circulation. 2008;118[suppl 1]:S250-S255.
5. Based on comparison with Carpentier-Edwards Physio ring.
6. Based on the implant patient registry maintained by Edwards Lifesciences.
7. Carpentier AF et al. The Physio Ring: an advanced concept. Ann Thorac Surg. 1995; 60(5):1177-85.
8. Sousa Uva M et al. Initial results of mitral valvuloplasty using the Physio ring. Arch Mal Coeur Vaiss. 1997; 90(6):789-95.
9. Raffoul R et al. Clinical evaluation of the Physio ring. Chest. 1998; 113(5):1296-1301.
10. Casselman FP et al. Mitral valve surgery can now routinely be performed endoscopically. Circulation. 2003; 108[suppl II]:48-54.
11. Bax JJ et al. Restrictive annuloplasty and coronary revascularization in ischemic mitral regurgitation results in reverse left ventricular remodeling. Circulation. 2004:110(suppl II)103-8.
12. Adams DH et al. Large annuloplasty rings facilitate mitral valve repair in Barlow's disease. Ann Thorac Surg. 2006; 82:2096-2101.
13. Accola KD et al. Midterm outcomes using the Physio ring in mitral valve reconstruction: experience in 492 patients. Ann Thorac Surg. 2005; 79(4):1276-83.
14. Chan DT et al. Mitral valve annuloplasty with Carpentier-Edwards Physio ring: Mid-term results. Asian Cardiovasc Thorac Ann. 2006; 14:382-6.
15. Seeburger J et al. Minimal invasive mitral valve repair for mitral regurgitation: results of 1339 consecutive patients. Eur J Cardiothorac Surg. 2008; 34(4):760-5.
16. Braun J et al. Restrictive mitral annuloplasty cures ischemic mitral regurgitation and heart failure. Ann Thorac Surg. 2008; 85:430-7.
17. Perier P et al. Toward a new paradigm for the reconstruction of posterior leaflet prolapse: midterm results of the "respect rather than resect" approach. Ann Thorac Surg. 2008; 86:718-25.
18. Geidel S et al. Restrictive mitral valve annuloplasty for chronic ischemic mitral regurgitation: a 5-year clinical experience with the Physio ring. Heart Surg Forum. 2008; 11(4):E225-30.
Modelos
Vídeo del implante
David H Adams MD
Para uso profesional. Ver las instrucciones de uso para obtener toda la información de prescripción, incluidas las indicaciones, contraindicaciones, advertencias, precauciones y efectos adversos.
Los dispositivos de Edwards Lifesciences disponibles en el mercado europeo cumplen los requisitos esenciales descritos en el artículo 3 de la Directiva de productos sanitarios 93/42/CEE y llevan la marca de conformidad CE.